Posts for tag: dental emergency
By Poetic Smiles
April 12, 2013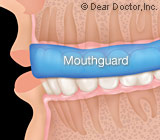 Participating in athletic activities offers numerous well-documented health benefits — not to mention instilling the intangible values of discipline, teamwork and goal-setting. Of course, in nearly every sport, the possibility of injury exists as well. But don't let that stop you or someone you love from playing! Instead, you can learn about the potential hazards of dental injury, and take some practical steps to minimize the risk.
It should come as no surprise that injury to the mouth is an ever-present possibility in so-called "collision" sports like football and ice hockey. But did you know that the greatest number of dental injuries result from the games of baseball and basketball, which are often played informally? Even non-contact sports like skiing, bicycling and skateboarding carry a real risk of injury.
Who suffers dental injury? Men are slightly more likely than women — but only by a small percentage. Injury peaks in the teenage years, and seems to decrease afterward — but older athletes tend to have more severe problems. In short, most anyone who participates in sports is subject to possible dental injury.
Besides the obvious aesthetic imperfections, a damaged or missing tooth can also result in functional problems with the bite — a potentially serious condition. If a tooth can't be immediately replanted, restoring it can be expensive: The total cost of each tooth replacement is estimated at $10,000-$20,000 over a lifetime. So tooth damage or loss can cause a multitude of troubles.
The American Dental Association (ADA) has recommended that participants in all of the sports mentioned above — as well as two dozen others — should wear a custom-fitted mouthguard. Why? Because when it comes to dental injury, an ounce of prevention really is worth a pound of cure.
Numerous studies have shown that wearing a custom-fitted mouthguard is an effective way to prevent dental injury. According to the Academy of General Dentistry, mouthguards prevent some 200,000 injuries each year. And the ADA says that athletes who don't wear mouthguards are 60 times more likely to sustain harm to the teeth than those who do wear them.
Off-the-shelf mouthguards in a limited range of sizes are available at many sporting-goods stores. But these can't compare to the superior protection and durability offered by a mouthguard that's custom-made just for you. Using an exact model of your teeth, we can individually fabricate a piece of protective gear that fits correctly and feels comfortable in your mouth. A custom mouthguard may be more economical than you think — yet its real payoff comes in preventing dental injury.
If you have questions about mouthguards or sports-related dental injuries, please contact us or schedule an appointment for a consultation. You can learn more in the Dear Doctor magazine articles "Athletic Mouthguards" and "An Introduction to Sports Injuries & Dentistry."
By Poetic Smiles
March 26, 2012
As the Boy Scouts say, it's best to be prepared. You may never have a traumatic injury to your teeth. But what if you do? Here are four questions and answers about such injuries and their treatment that may be helpful some day.
What are traumatic injuries?
We are talking about physical damage caused by a fall, an accident, or a blow to the face. The word trauma comes from the Greek root meaning "wound."
A traumatic injury can also cause broken, cracked, or split teeth, or a fracture to the root of the tooth. A tooth may be dislodged from its proper position, pushed sideways, out of or deeper into its socket. It may even be completely knocked out of your mouth.
What should you do if your tooth is knocked out?
With proper treatment, the tooth can be restored to its original place. You must handle the tooth gently and seek professional help as soon as possible. Rinse the tooth in cold water if it is dirty, but do not use any cleaning agent. Avoid touching the root. While hurrying to your dentist, keep the tooth from drying out by keeping it in a container of milk or of your saliva, or by holding it in your mouth between gum and cheek. It is vital to keep the tooth's living tissues moist until it can be professionally assessed and replanted in its socket. If a tooth has been dislodged but not knocked out, it must be repositioned in its socket and may be stabilized with a splint.
Who can treat a tooth that is damaged by a traumatic injury?
A general dentist, an oral surgeon or an endodontist is trained to treat such injuries. An endodontist is trained to treat the root canal(s) inside a tooth. The word comes from "endo" the Greek word for "inside," and "odont," the word for "tooth." After a tooth is replaced in its socket and stabilized, root canal treatment is often needed.
What is root canal treatment?
A tooth is composed mostly of dentin, a living tissue. The top part or crown is covered by hard mineralized enamel. The soft tissue inside the tooth, the pulp, contains blood vessels, nerves and connective tissues. It extends from the crown to the tip of the roots. Treatment of dental pulp injuries is called root canal or endodontic treatment and is usually needed to treat teeth that have been dislodged or fractured.
Contact us today to schedule an appointment to discuss your questions about injuries to teeth and related nerve damage. You can also learn more by reading the Dear Doctor magazine article "Trauma & Nerve Damage to Teeth."