Posts for tag: snoring and sleep apnea
By Poetic Smiles
January 26, 2015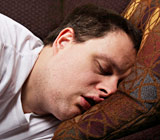 Nearly everyone has snored at some point in life. However, if your sleeping partner routinely tells you that you suffer from this problem, you really should take action to confirm or deny your suspicions. You may be like one of the 50 to 70 million people in the US alone that suffer from Obstructive Sleep Apnea (OSA), a medical condition in which the upper airway (the back of your throat) collapses during sleep thus limiting your intake of oxygen. And this condition is serious. If left untreated, OSA can lead to a stroke, impotence, an irregular heartbeat, heart attacks, high blood pressure, and other forms of heart disease.
The first and most important step you should take if you snore is to obtain a thorough examination by both your primary-care physician and our office. We have completed specialized training in sleep medicine so that we can not only diagnose but also thoroughly treat your sleep disorders.
If you are diagnosed with this problem, relax. We have many ways we can treat your condition. One of the most common methods is to provide you with oral appliance therapy. This first line of treatment involves our making a customized oral appliance (mouthpiece) that will hold your lower jaw forward. By doing this, we can move your tongue away from the back of your throat so that your airway is less likely to get blocked while you sleep. (It is this blockage that causes the infamous snoring sound.)
Another option we may consider using to treat your sleep apnea if it is moderate to advanced is a Continuous Positive Airway Pressure (CPAP) machine. These machines require you to sleep with a mask over your nose and/or mouth and produce continuous pressure in your windpipe so that your tongue is forced forward away from your airway. Not only can these machines potentially eliminate your snoring, but they can also give you the restful night's sleep that you have been missing.
The last and most permanent solution for treating certain non-responsive cases of sleep apnea is surgery. This option is typically reserved for the most advanced cases to eliminate or reduce an obstruction to the airway.
Contact us today to discuss your questions about sleep apnea or to schedule an appointment. You can also learn more about sleep apnea when you continue reading the Dear Doctor magazine article "Sleep Disorders & Dentistry."
By Poetic Smiles
December 18, 2011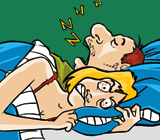 If you suffer from snoring or think you may have Obstructive Sleep Apnea (OSA), did you know that your dentist could play an important role in treating your condition? For most people this is surprising; however, we can provide both education and some treatment options. And as needed, we will work with your other healthcare professionals to get an accurate diagnosis so that you can improve both your sleep and your health.
Oral Appliance Therapy: These devices may look like orthodontic retainers or sports mouthguards, but they are designed to maintain an open, unobstructed, upper airway (tissues at the back of your throat) during sleep. There are many different oral appliances available but less than 20 have been approved through the FDA (Food and Drug Administration) for treating sleep apnea. Depending on your specific condition, we may use it alone or in combination with other means of treating your OSA. Here's how they work. They reposition the lower jaw, tongue, soft palate and uvula (the tissue in the back of the throat that dangles like a punching bag); stabilize the lower jaw and tongue; and increase the muscle tone of the tongue — unblocking the airway.
Continuous Positive Airway Pressure (CPAP): CPAP bedside machines generate pressurized air delivered through a tube connected to a mask covering the nose and sometimes mouth. Pressurized air opens the airway (windpipe) in the same manner as blowing into a balloon; when air is blown in, the balloon opens and gets wider. This treatment option is generally not used for snoring, but rather for the more serious condition, OSA.
Surgery: Specially trained oral and maxillofacial surgeons may include more complex jaw advancement surgeries. Additionally, an Ear, Nose & Throat (ENT) specialist (otolaryngologist) may consider surgery to remove excess tissues in the throat. It also may be necessary to remove the tonsils and adenoids (especially in children), the uvula, or even parts of the soft palate.
The first step towards getting a great night's sleep if you are a snorer that has never been diagnosed or treated for your condition is to obtain a thorough examination by a physician specifically trained in diagnosing and treating sleep disorders. And depending on the seriousness of your condition, he or she may strongly encourage you to participate in a sleep study. The results from this "study" can provide your dentist and other healthcare professionals with precise data about your snoring, breathing and sleeping habits. This information is key to treating OSA, if you are in fact diagnosed with this condition. Learn more when you read, "Snoring & Sleep Apnea." Or if you are ready for a thorough examination and to discuss your snoring, contact us today to schedule an appointment.
By Poetic Smiles
November 13, 2011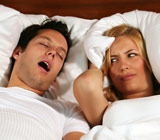 If you wake yourself by snoring or have been told by others that you snore, you should share this fact with us during your next visit. Why? Many people are shocked to learn that their dentist is a vital resource for treating snoring and Obstructive Sleep Apnea (OSA), a condition that occurs when the upper airway (back of your throat) is blocked or obstructed causing significant airflow disruption or even no airflow whatsoever for 10 seconds or more.
Self Test For Sleep Apnea
While your responses to the following questions are not a diagnosis for OSA, they can be warning signs that you may have OSA or another condition that is impacting your sleep.
Are you a loud habitual snorer?
Has anyone ever witnessed you holding your breath, gasping for air or even choking while asleep?
Do you regularly feel un-refreshed or tired even after waking from eight or more hours of sleep?
Do you find yourself easily falling asleep throughout your day at work or at home?
Do you suffer from poor concentration or judgment, memory loss, irritability and/or depression from lack of sleep?
Are you 15 pounds over the normal weight range for your height and/or does you neck measure more than 17 inches around if you are male and 16 inches if you are female?
If you answered, "yes" to any of the above questions, you should share your responses to all of these questions with both your physician and us so that you can receive a thorough examination to address your sleep concerns. And if you are diagnosed with OSA, we can help with specific oral treatment options that may work best for you.
Learn More
Learn more about the signs, symptoms, and treatment options when you read "Snoring & Sleep Apnea." Contact us today to discuss your questions or to schedule a consultation.