Posts for tag: wisdom teeth
By Robert D. Ory, D.D.S.
June 11, 2020
If all goes normally, we have most of our permanent teeth as we enter puberty. Except, though, when it doesn't—sometimes incoming permanent teeth don't fully erupt, often because there's not enough room for them on the jaw. This can leave all or part of a tooth still up inside the gum and bones.
This condition is known as impaction, and it can cause problems with a person's bite and their smile. This is especially true of the upper canines, those pointed teeth located just under the eyes. Without them present, a person's smile can look oddly different. Moreover, it can worsen their bite and increase the risk of trauma and disease for nearby teeth.
Fortunately, there may be a way to coax impacted canines into erupting into their proper position on the jaw. It will involve, though, some minor surgery and orthodontic intervention to accomplish that feat.
First, though, a patient with missing canines should undergo a thorough orthodontic evaluation. This exam will reveal not only what may be going on with the missing teeth, but how the whole bite has been affected. Knowing the big picture will help direct the next treatment steps.
After pinpointing the impacted teeth's exact position (usually through x-rays or cone beam CT scanning), we then decide whether it's feasible to attempt to expose the teeth. Sometimes, a tooth's position is so out of place that it may be best to remove it and consider a dental implant or other restorative measures.
If it is in a workable position, then the impacted teeth would be exposed surgically (usually by an oral surgeon or periodontist). The surgeon would then bond a small bracket to the exposed tooth and then attach a small chain.
After suturing the incised gum tissues back in place, the chain extending outward from the gums would then be looped over orthodontic hardware attached to other teeth. This will place downward pressure on the upper canine tooth, and over several months prod it to fully erupt.
This may sound like an elaborate procedure, but it's fairly routine and predictable. As a result, a patient can finally get the full benefit of all their teeth, enhance their dental health and transform their smile.
If you would like more information on dealing with impacted teeth, please contact us or schedule an appointment for a consultation. You can also learn more about this topic by reading the Dear Doctor magazine article "Exposing Impacted Canines."
By Robert D. Ory, D.D.S.
November 09, 2019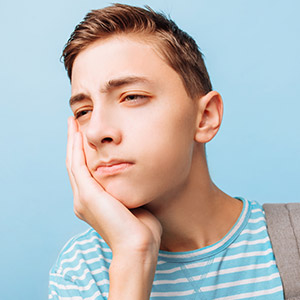 Your child's permanent teeth come in gradually, starting just as they begin losing their primary ("baby") teeth and not ending until late adolescence or early adulthood. That's when the third molars or "wisdom teeth" close out the process.
Because of their late arrival, wisdom teeth have a high potential for dental problems. With a greater chance of crowding or obstruction by other teeth, wisdom teeth often get stuck fully or partially below the gums and bone (impaction) or erupt out of position. In one study, 7 in 10 people between the ages of 20 and 30 will have at least one impacted wisdom tooth at some time in their lives.
It's not surprising then that wisdom teeth are among the most extracted teeth, to the tune of about 10 million per year. Besides those already diseased or causing bite problems, many are removed preemptively in an attempt to avoid future problems.
But wisdom teeth usually require surgical extraction by an oral surgeon, which is much more involved than a simple extraction by a general dentist. Given the potential consequences of surgical extraction, is it really necessary to remove a wisdom tooth not creating immediate problems?
That's not an easy question to answer because it's often difficult to predict a wisdom tooth's developmental track. Early on it can be disease-free and not causing any problems to other teeth. But as some researchers have found, one in three wisdom teeth at this stage will later develop disease or create other issues.
For many dentists, the best approach is to consider extraction on a case by case basis. Those displaying definite signs of problems are prime for removal. But where there are no signs of disease or other issues, the more prudent action may be to keep a watchful eye on their development and decide on extraction at some later date.
More than likely, your dentist will continue to have an ongoing discussion with you about the state of your child's wisdom teeth. While extraction is always an option, wisdom teeth that aren't yet a problem to dental health may be best left alone.
If you would like more information on treating wisdom teeth issues, please contact us or schedule an appointment for a consultation.